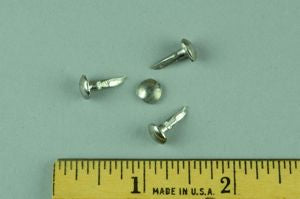 4/8 Hob Nails - Round Head (1/2 lb.)
Part Number:
030-229-8oz
Cut from 10 gauge steel  our Round Head Hob Nails
 (or hobnail)
have a shank measures 4/8" in length with a relative head diameter of 5/16" and a relative head thickness of 3/32".  There are approximately 260 pieces per 8 oz. package.  Our company has manufactured them for the Civil War, WWI, & WWII. The nails have continually been produced on the same machines that originally produced them for the Civil War.
---
More from this category